Do you know what can cheer you up after not feeling well for a couple of days? The September Sparkle Hustle Grow box arrived, and perked me right up!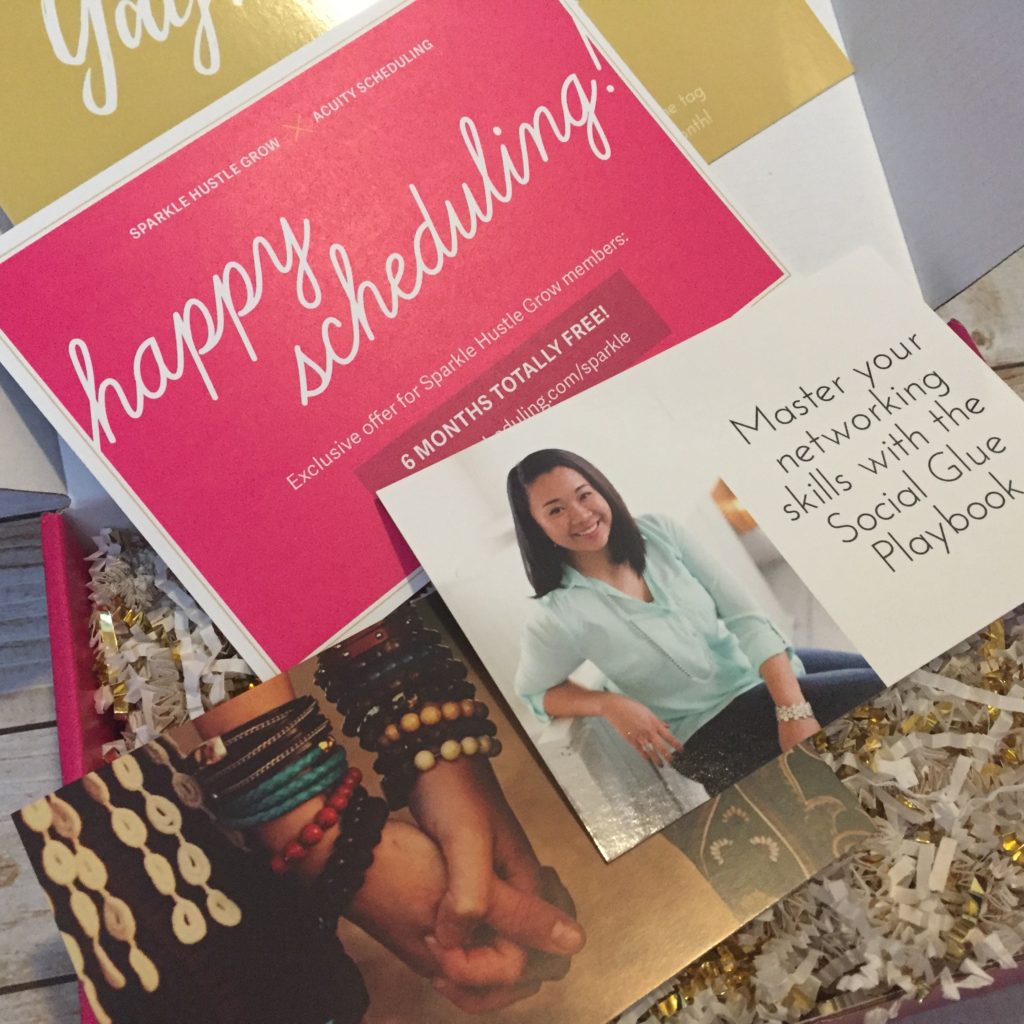 This month's box is full of more great items, including a book that has been recommended to me many times and I have never had a chance to read. 'How to Win Friends & Influence People' by Dale Carnegie. This book is a timeless bestseller, and almost ever business person I have met has read it.
Also included in the box is a planner like no other planner I've purchased before (and, beleive me, I've purchased a LOT of planners always hoping to find just the right one). The Today and Tomorrow Day Planner by TF Publishing is bound at the top and not dated so you can jump in and start using it at any time. Lucky me, it came with a 20% off coupon so I can browse around their online shop and see what else they have. If you are easily dristacted by shiny objects and planners – you might want to be careful before clicking on the link.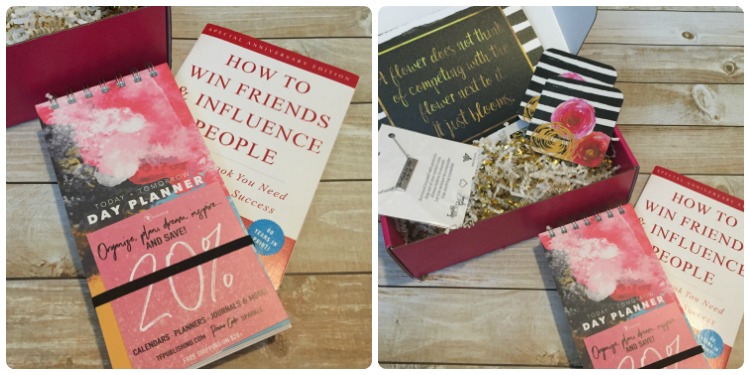 One of the things I really enjoy about the monthly boxes from Sparkle Hustle Grow, is each month they have an offer for training that is helpful for growing a business. Previously there have been Facebook classes and content planning. This month they are offering online training by Reina Pomeroy called Social Glue Playbook so you can learn how to create relationships that turn into long term business success indicators. If you are a small business, you are probably looking for ways to build up your client base. I always find it enlightening to hear how other people build their businesses. Sometimes it is a matter of taking what I've learned from a lot of different people and creating my own way, but I never walk away from a training without learning something.
I have been trying to find the perfect scheduling tool that I can use on my website to allow potential and existing clients to schedule their own appointments with me. It has been difficult because I keep separate calendars for my personal and work life as well as my two businesses. When looking at online scheduling tools I have to find something that can combine all those calendars in one place so that when someone books a meeting with me there are no conflicts or missed appointments. In this month's box there is a 6 month free trial for Acuity Scheduling. They have four plans, all are priced in line with others I've looked at and tried, so I will give them a try to see if it works better than the others I have tried to date. Sooner or later I'm bound to find the perfect solution for me!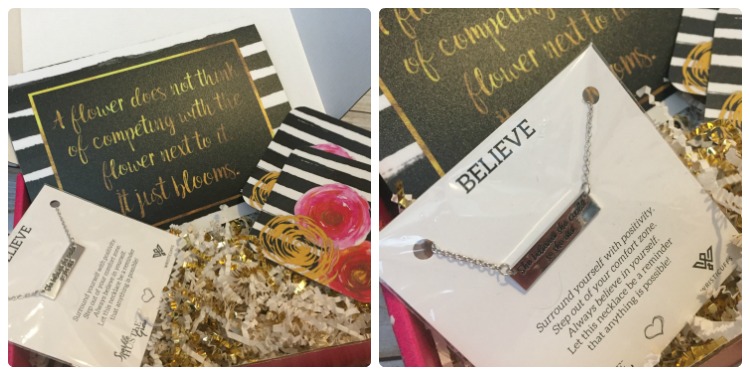 Lastly, there are two other items in the box that I love, but some might think they are just fluff. Nevertheless, included in the box is a necklace from Wristicuffs with the inscription 'She believed she could so she did.' Other than the quote from Winston Churchill that says, 'Never, never, never quit' – this is a favorite of mine.
And, then there is a mouse pad and coaster set which has roses on it and can brighten up any workspace. The mouse pad says 'A flower does not think of competing with the flower next to it. It just blooms.' This quote is a great reminder to all of us – wake up each day and WORK. Not because you have to be better than the person next door or down the street, but because you want to be productive and great at what you do and how you do it. Don't worry about everyone else – worry about yourself and you can (and will) be successful.
If you missed my last post about Cratejoy and signing up for this great box, you also missed the info about earning $5.00 if you sign up using my referral link! They have a ton of wonderful boxes to choose from – I ordered an art supply one for my brother for his birthday and can't wait to see all the great stuff he gets in the mail!
Anyone ready to join me so we can Sparkle Hustle Grow together?