The new year will be here before we know it and now is the time to start planning for ways to market to your customers. If you have a brick and mortar business some of the national days that people celebrate can be a great way to get people to visit your shop or reward them for being a loyal customer. Here are some marketing ideas for National Days January 1st – 4th!
I like to follow National Day Calendar because their site really covers the A-Z of national days from National Bloody Mary Day to National Trivia Day and more. At your shop you can set up a coffee bar offering free cupcakes on cupcake day or chocolate chip cookies on chocolate chip cookie. Partner with local places to support each other by swapping items – if you operate a salon trade coupons for services related to a certain national day with another business that would go well like a flower shop for Mother's Day. There are so many ways you can promote your business and other local businesses to grow the small business community where you live and work!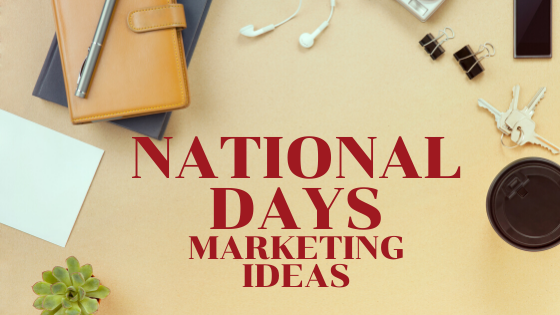 For the week of January 1st just look at all the national days you have the opportunity to incorporate into your marketing plan. Not to mention the national weekly and monthly observations!
Daily Observations:
January 1
January 2
January 3
January 4
Weekly Observations:
Monthly Observations:
Looking at a few of the observations above – here are some ideas you can implement into your business:
There are so many ways you can change things up in your business to increase your exposure and ultimately increase your sales. The ideas above don't take a lot of time and money to plan and execute, but the little touch of care means a lot to customers.
Have an online business and don't know how you can incorporate these ideas? No worries – include a coupon in your order for a national pizza chain, add a printed recipe for fresh squeezed juice to your package, or include a tea bag of your favorite tea. When doing any of these things, include a little note explaining it's National Fresh Squeeze Juice Week and you would like to share one of your favorite recipes. A small gesture goes a long way!
What ideas have you implemented to market your business in a different way?