Are you ready to plan for February? Here are some marketing ideas for February National Days. Whether your business is online or a brick and mortar there are ways you can celebrate and honor different national days, weeks or months to promote your business, encourage your team and help others!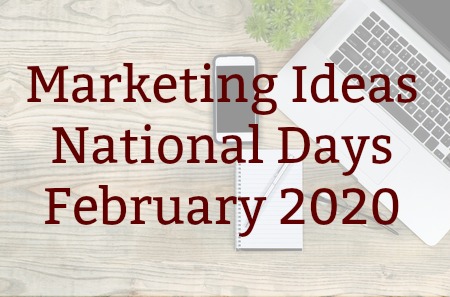 National Get Up Day – This is a day to share inspiring stories of perseverance; it's a reminder to pick ourselves up when we've fallen and give it (whatever it may be) another go!
National Texas Day – Do you have a business in Texas? Go big or go home and show your love of Texas by having a Texas-sized celebration. #NationalTexasDay
National Tater Tot Day – If you have a restaurant and offer Tater Tots you should go all out and create a unique recipe.
National Groundhog Day – Let's just say I hope the groundhog tells us that spring will be here sooner rather than later!!
National Carrot Cake Day – Make one or buy one and have pieces available for your customers, employees, friends and family.
National Missing Persons Day – Use your social media platform as a way to share information and photos of people who are missing. You never know who it might help!
National Thank a Mail Carrier Day – During the holidays I always leave my mail carrier a small gift. You can use this day to leave them a small treat and thank them for all the boxes they bring you.
National Send a Card to a Friend Day – Randomly make someone's day by sending them a card. You may not be able to have it arrive in their mailbox on the exact day, but the effort and thought will be worth it. In this world of electronic communication a handwritten note is appreciated.
National Wear Red Day (First Friday in February) – This day originated in 2004 when the American Heart Association took on the challenge of raising awareness about the number 1 cause of death in women. Show your support of this cause by having your employees all wear red. To find out more – Go to www.goredforwomen.org for more information.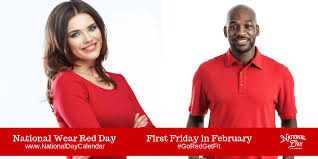 National Umbrella Day – Do you give away swag with your company logo? How about an umbrella to the first 10 customers who come in your business today?
National Shut-In Visitation Day – This a great opportunity for you to grab your team and take them to visit people who due to physical, mental or emotional reasons are unable to leave their home. You can deliver food, flowers, or just stop by to say hello and brighten someone's day.
National Organ Donor Day – We know that most people focus on Valentine's Day on February 14th, but what better way to show your love than registering to be an organ donor. When my stepfather passed away he was able to help others in need through the gift of organ donation. Pick up some literature to share with your team and your customers on how they can become a donor. Visit donatelifenw.org and organdonor.gov for more information on organ donation.
Valentine's Day – This is a great opportunity for you to offer special gifts, gift cards, and other items for your customers to purchase as gifts for their loved one. If you own a salon or spa, put together a nice pampering package of services. You can partner with other businesses to provide flowers, wine, a meal or something else to go along with your package.
National Random Acts of Kindness Day – This is a great day to do something special for a random person. Hand out a gift certificate to your business. You never know – that person may end up being your most loyal customer!
National Random Acts of Kindness Week – The Random Act of Kindness Website has ideas https://www.randomactsofkindness.org where there are all kinds of inspiring stories and ideas of random acts of kindness.
National Drink Wine Day – Do you serve wine in your business? Find a special bottle and share it with your customers by offering a taste of your favorite and perhaps introducing them to something new they can order next time.
National Lash Day – Do you sell makeup or have a business related to lashes? Share a tip or trick on your social media about how your clients can have healthy and beautiful lashes.
National Love Your Pet Day – If you have a business offering items related to pets what can you offer on special? A personalized dog bandana? Coupon for dog walking? Think of ways you can promote your business to the pet lovers!
National Caregivers Day (Third Friday in February) – There are more and more caregivers today who are worn out and tired from the time and energy they spend caring for others. Caregivers are often overlooked and overworked and need your support – take time to thank a caregiver for their dedication and care of our loved ones.  #NationalCaregiversDay
National Banana Bread Day – I shared my Grammy's Banana Bread recipe on my GeminRed Creations blog several years ago. For all we know the recipe came from Betty Crocker, but it's my favorite recipe.
National Dog Biscuit Day – If you have a business making dog biscuits come up with a new recipe to share with your four-legged fans!
Spay Day USA (Last Tuesday in February) – This day was created by the Doris Day Animal League in 1994 as a day to bring attention to the pet overpopulation problem in the United States. If you run a vet clinic consider offering a discount on spay and neutering to encourage people to spay their pets.
National Strawberry Day – There are several things you can do with strawberries. Consider offering a drink with a strawberry garnish, strawberry lemonade, chocolate covered strawberries or a slice of strawberry. Every customer loves a little treat!
National Floral Design Day – How about a team building event learning how to put together a beautiful floral arrangement? Think outside the box and do something different with your team. Flowers make everyone's day brighter!
National Tooth Fairy Day – Run a dentist office? Hand out tooth fairy pillows to the kids who come in on this day. They can tuck their tooth in the pillow when it falls out so the Tooth Fairy can pay them a visit! I have a few cute options available from my sewing/embroidery business.
February has a long list of observances. There are many opportunities for you to promote your business and engage your team to make an impact on your community. For more information on each of these, visit the National Day website with links to each.
National Fasting February
National Self Check Month
National Enrolled Agents Month
Free and Open Source Software Month
American Heart Month
An Affair to Remember Month
Black History Month
Canned Food Month
Creative Romance Month
Great American Pies Month
National Bake for Family Fun Month
National Bird Feeding Month
National Cherry Month
National Children's Dental Health Month
National Grapefruit Month
National Heart Month
National Hot Breakfast Month
National Library Lover's Month
National Snack Food Month
National Weddings Month
National Embroidery Month
Teen Dating Violence Awareness Month
What ideas do you have to promote your business this month? Will you be able to use any of these national observances to engage your customers and team members to grow your business?