Another month gone. Are you ready to see where April can take you? Here are some marketing ideas for April National Days. Whether your business is online or a brick and mortar there are ways you can celebrate and honor different national days, weeks or months to promote your business, encourage your team and help others!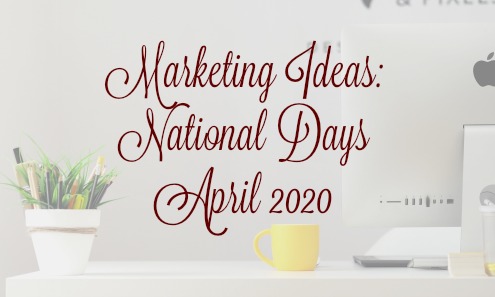 World Autism Awareness Day – Help shine a light on this growing global health crisis and support those who are impacted by autism. If you have a creative business consider donating a percentage of your proceeds for autism related items to organizations like Autism Speaks.
National Jeep 4×4 Day – Promote adventure. If you have a travel or adventure company – what can you do to get your local Jeep lovers involved? If you have a t-shirt business or one that creates custom hats – do you have designs that Jeep lovers will want? Tap into your creativity and find ways to attract Jeep fans.
National School Librarian Day – School librarians are an important part of a child's journey through school. Let's honor them in a special way. Consider a gift card, a handwritten thank you card, or a celebration sponsored by a local business or the PTA.
National Handmade Day – Held the first Saturday in April this special day recognizes those who use their creative talents to create gifts and launch small businesses. Whether you bake, create beauty products, artwork or other handmade items – we honor all handmade artisans. #NationalHandmadeDay
Gold Star Spouse Day – This day honors the surviving loved ones of military service men and women killed in the line of duty. If you own a salon or spa consider offering a discount or a special service to those surviving family members. If you are looking for a team building exercise you can take your team to volunteer with a veterans group and give back to the community and those who served.
National Flash Drive Day – Let's commemorate the day inventors filed the patent for the first USB flash disk. I don't know about you, but I am thankful for this awesome invention! I use them all the time. Looking for swag to give customers? Order some thumb drives with your logo and hand them out. They are great for saving photos, files and more. This day is also a good day to make sure you have all your files backed up on external devices. I like to use external drives and the cloud for extra safety.
SAAM Day of Action – Observed as part of Sexual Assault Awareness Month (SAAM). When I had my salon I had small signs I placed in the restrooms with hotline numbers for clients who may need help escaping from sexual/domestic violence. It's a small gesture that can go a long way to help someone who is in a vulnerable situation. For more information on SAAM Day of Action visit the website for the National Sexual Violence Resource Center (NSVRC) and find ways you can help your customers and your employees.
National Girl, Me Too Day – Recognizes the strength and endurance of women of all ages. This is a day to break down divisions among women of all walks of life. Let's lift each other up. Visit Girl Me Too for more information. #GirlMeToo
National Unicorn Day – All the world loves a unicorn. Today the unicorn stands for many different things beyond just a mythical creature. It can mean that someone is extremely rare in personality or talent or it can mean a one-of-a-kind clothing item that is hard to find. Whatever you think about them – find a way to enjoy a day as unique as you are!
National Winston Churchill Day – I have had the quote "Never, never, never quit!" on my email signature for many years. A quote attributed to Winston Churchill. Turns out that over time the quote has changed and what he truly said was "never give in". Either way, it is a favorite quote of mine and to this day my motto is to never quit (or give in). Mark today by accomplishing something you have set out to do and have put off for far too long!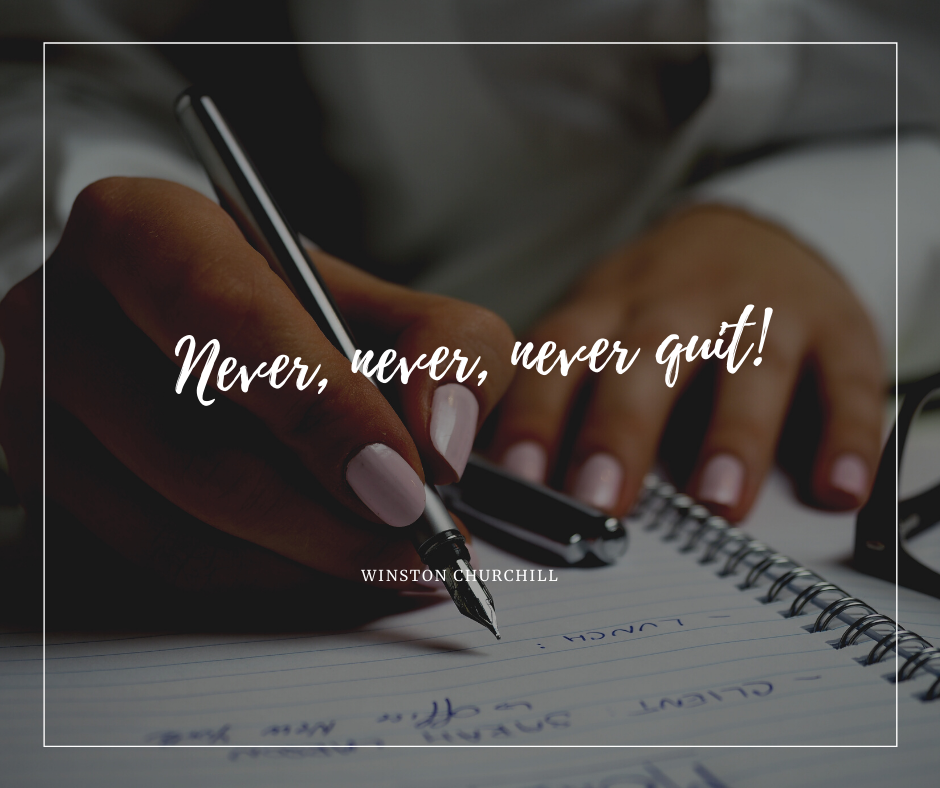 National Encourage a Young Writer Day – If you know a young person who likes to tell stories and write, today is the perfect day to help them put pen to paper and jot down their dreams and ideas. Give them a journal, visit the library to read books about getting started on their writing journey, encourage reading as a way to expand their minds, and perhaps gather up their friends to start a writing group. #EncourageAYoungWriterDay
National Pet Day – We know that everyone loves their pets. There is no shortage of cute pet photos on social media. National Pet Day encourages people to pay attention to pets may not get the attention they deserve. Consider grabbing your team and volunteering at a local shelter to provide love and comfort to those looking for their forever homes!
Easter – Wishing you a day of blessings for your and your family!
National Reach as High as You Can Day – Whether you take this literally or figuratively, reach as high as you can today! Reach for your dreams and goals. Reach for the starts. Whatever you do today, reach as high as you can and make it count. Help others reach their potential by coming together for a common goal.
National Tax Day – Hopefully this isn't the day you've been dreading since last year. If you haven't already, gather your paperwork and get busy – the deadline is midnight if you haven't filed an extension. If you have a small business make sure you have accounted for all your expenses and have all your receipts together. This article from Entrepreneur provides some tips for ensuring you are prepared. #NationalTaxDay
Get to Know Your Customers Day (Third Thursday of each quarter / April) – Don't ignore the reason you are in business…your customers! Without them you would not be where you are today. Find ways to get to know them better. When I owned my salon I made it a point to talk to each client who came in – I got to know their birthdays, about their children, their jobs and interests. Those little things go a long way to building trust and loyalty.
Tips to Knowing Your Customer:
Ask your customers questions. Find out what services and products they need.
Use social media. Share information about your specials and new products/services. Social media is a great tool to find out what your customers like (or don't like) about your business. If someone posts on your business page – it's important to respond as quickly and professionally as possible. When you do, others will notice. If you fixed a negative customer experience in a positive way it can show you stand by your word. In the end, it could turn potential customers/clients into lifelong customers.
Follow up on a purchase. If a customer purchases something from you for the first time – follow up and ask how their purchase or service worked for them. It will provide you with insight about your product, and help you learn more about your customer and their needs.
Network with other businesses. Learning and sharing best practices for getting to know customers from other successful businesses will also grow your business.
National Library Workders Day – This day is celebrated on the Tuesday of National Library Week. We owe a lot to our library workers. They help young people get started in the world of reading and expanding their imagination. In a day when libraries are not getting the funding they need and deserve, remember to celebrate the people who keep our libraries alive. #NationalLibraryWorkersDay
National Earth Day – What can you and your business do this year to celebrate and honor Mother Earth? Can you make a committment to reduce, recycle, reuse? I do my best to limit how much printing I do – when possible I request electronic receipts instead of paper and use mobile ticketing or check-in. For my business I use recycled boxes, envelopes and packaging when available. Little things can make a big difference.
National Administrative Professionals' Day  (Wednesday the last full week of April) – Take the time to recognize the administrative support person/team who help keep your business running smoothly. They often do things behind the scenes that help you in ways you would never know. A small token of appreciation like a handwritten card, cup of coffee, candy or lunch will go a long way to show you care.
National Take a Chance Day – Goodness knows I've taken a lot of chances in my life. Buying a business. Walking a marathon and half marathons. Jumping in with both feet for a new business after being laid off. Publishing a book. You are not promised tomorrow, so if you have a dream don't put it off any longer. Today is as good a day as any.
National Teach Children to Save Day – In a time when many people are living paycheck to paycheck, what can you do to teach children how to save for their future? Take your child to your local bank and start an account and teach them how to save even a few pennies a week. It will add up over time and they will be surprised by what they accomplish. Set small goals and offer little rewards if they meet them.
National Zipper Day – Seems like a crazy day to celebrate, but I bet we all take for granted the fact that each day we wear or use something with a zipper. In honor of National Zipper Day perhaps watch a YouTube video or sign up for a class to learn how to replace a broken zipper.
National Hairstylist Appreciation Day – They spend hours on their feet, barely have time for a trip to the bathroom or to eat and yet they often don't get the thanks they deserve. Not only do they make you look good – they make you feel good. So why not do the same for them. Send flowers, leave an extra tip, or have lunch delivered to your favorite stylist / salon.
April is full of different observances you can honor and celebrate in a variety of ways. There are many opportunities for you to promote your business and engage your team to make an impact on your community. For more information on each of these, visit the National Day website for more information about each.
National Alcohol Awareness Month
English Language Month
National Month of Hope
National Canine Fitness Month
National Financial Literacy Month
National Internship Awareness Month
Distracted Driving Awareness Month
National Child Abuse Awareness Month
National Donate Life Awareness Month
National Cannabis Awareness Month
National Fair Housing Month
Month of the Military Child
International Guitar Month
Keep America Beautiful Month
Lawn and Garden Month
National Autism Awareness Month
National Couple Appreciation Month
National Decorating Month
National Fresh Celery Month
National Garden Month
National Humor Month
National Jazz Appreciation Month
National Soft Pretzel Month
National Soy Foods Month
National Straw Hat Month
National Parkinson's Awareness Month
National Poetry Month
National Pecan Month
National Volunteer Month
National Welding Month
Occupational Therapy Month
Records and Information Management Month
Scottish-American Heritage Month
Sexual Assault Awareness Month
Stress Awareness Month
National Safe Digging Month
World Landscape Architecture Month
What ideas do you have to promote your business this month? Will you be able to use any of these national observances to engage your customers and team members to grow your business?